Machine Wise is AWS Partner company specialized in machine learning services and solutions. We are cloud-first, cloud-born and cloud-savvy team of product managers, data scientists / engineers and MLOps engineers. ML-wise we are bringing 10+ years of ideating, architecting and deploying machine learning and other data products.
Learn below:
---
Why AWS Marketplace
Your ML solutions are now 1-click-away
Your data is your greatest asset, but it's not always clear how best to make it work for you. Even though some descriptive analytics solutions are well-founded and quick to set up in cloud environments, game-changing solutions for personalization, forecasting or machine learning predictive/prescriptive analytics in general, are not that quick and easy to develop, deploy and maintain.
To speed the adoption and contrast traditional data modelling and messy ML model deployments, AWS has developed high-level ML services, like Rekognition, Lex, Personalize or Kendra, as well as broad ML customisation capabilities with their flagship ML product, Amazon Sage Maker. Additionally, many companies nowadays use pre-trained models and leverage transfer learning, in order to shorten the time-to-value.
So, what is missing to make ML solutions a true commodity? We believe it is a procurement channel - and that cloud marketplaces are closing that gap.
On AWS Marketplace you could buy (and we could sell) ready-for-inference ML models, trainable algorithms, quality training datasets, or whole ML solutions architectures, like you were subscribing to yet another AWS service. Consolidated billing, pay-as-you-go pricing, volume discounts, cloud security, elasticity, global reach - all the cloud benefits, right out of the box.
When it comes to ML solutions, choose AWS Marketplace and Machine Wise.
---
How we can help you
Spin your data flywheel by working with us
Apart from ML solutions, Machine Wise provides expert machine learning consulting and professional services for the cloud.
If you are at the beginning of your data and ML journey we could help you Discover AI opportunities.
Architecting ML solutions needs to account for a lot! To start with:
Dataset acquisition, cleaning and labeling in streamlined data pipelines
Model building, experimentation and training
Parameters tuning and model deployment
Model performance monitoring
But imagine you'd want: Human in the loop escalation and control, A/B testing, drift detection, reporting, interpretability of results, compliance and regulation conformance, privacy guarantees, … Only listing these concerns is overwhelming. Therefore, we offer our expertise to help you Architect AI.
Finally, if you have AI/ML solutions workload already, we could help you refactor your architecture or just review your solution under Well-Architected Framework ML lens - Scale AI.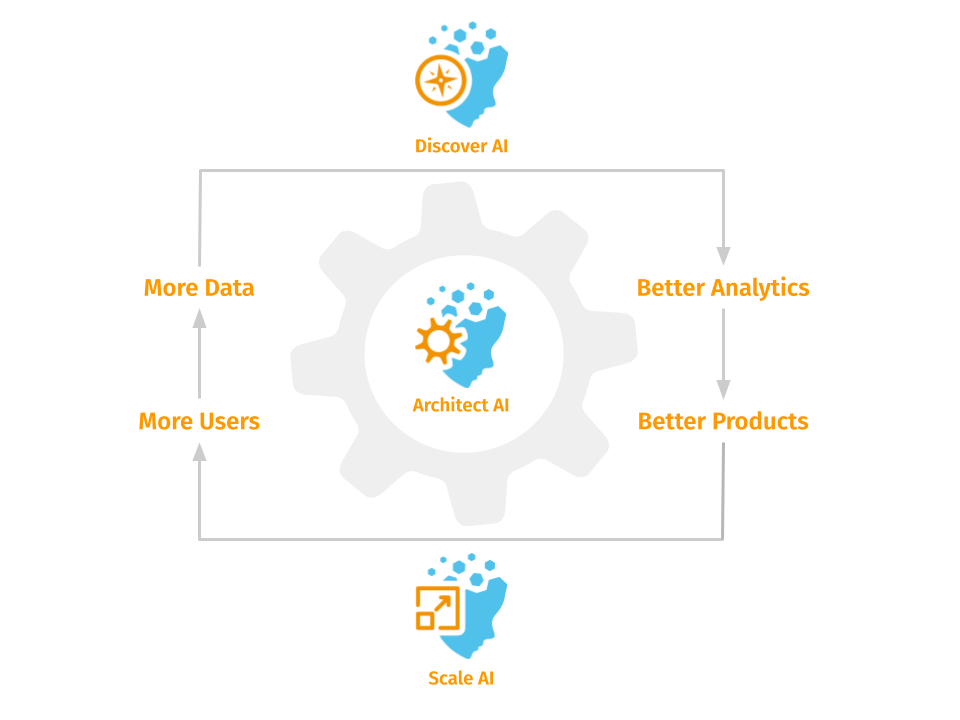 ---
What we predict lies ahead
Future is uncertain, but full of fun things to build
Beginning of 2022, there are almost 800 SageMaker models and more than 100 SageMaker algorithms in AWS Marketplace. In aforementioned report Tackle.io predicts that "Cloud Marketplaces will exceed $10B in throughput by the end of 2023 and $50B by the end of 2025".
With reduced profit sharing fees as well as GTM support, more and more sellers will onboard these channels. All of this puts Machine Wise and companies we help in exciting early-adopter position to build awesome data products in a fun way!